Mariners rely on FleetBroadband for cost-effective operational and crew communications. Choose from a range of capabilities and antenna sizes to suit your vessel needs.
Satellite Telephone
Access up to nine telephone lines with FleetBroadband Multi-voice and make crystal-clear phone calls to terrestrial and mobile networks, as well as other satellite terminals, anytime.
Standard IP data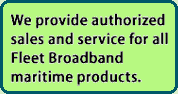 An always-on connection at up to 432kbps for applications such as email and internet access, real-time electronic charts and weather reporting.
Streaming IP
Guaranteed connection rates of up to 256kbps available on demand, for live applications such as video conferencing and database synchronisation.
SMS messaging
Send and receive SMS text messages to and from other FleetBroadband terminals and land-based cellular networks through your PC.
Enhanced voice services
Voicemail and other enhanced call management options are available, including caller identification, caller barring and call forwarding.
Emergency calling
Two safety service options, 505 Emergency Calling and Voice Distress, put you directly in contact with a maritime rescue station.
Contact a [ STS Dealer ] near you for MORE INFORMATION